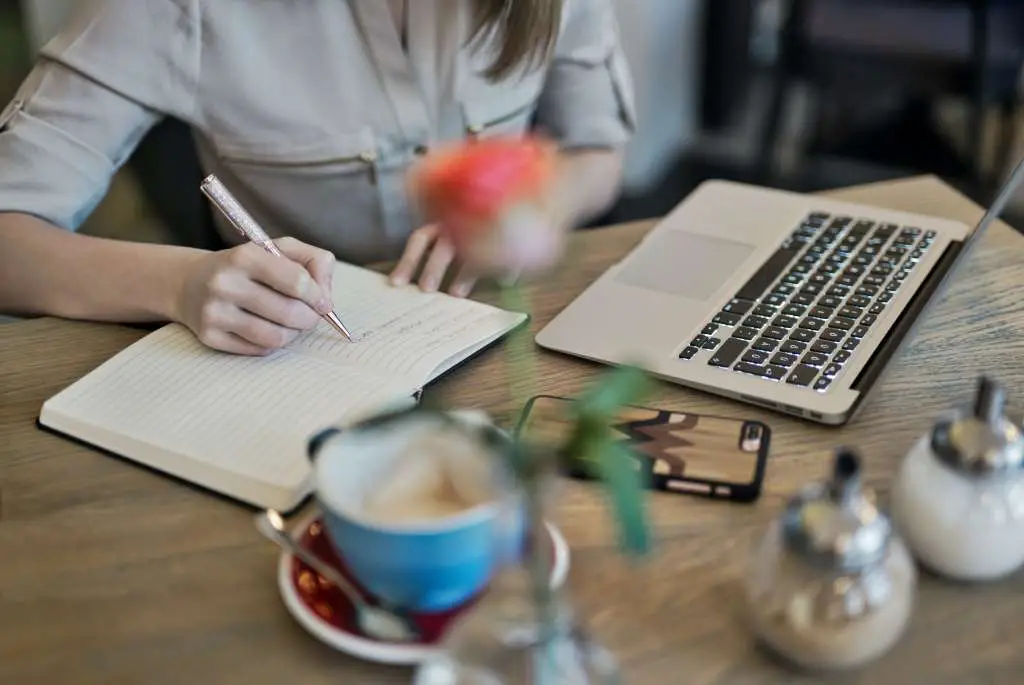 These are the tools I recommend you use at the start of your content creation journey.
Let's be honest— as a beginner, you may not have a lot of money to spend on your online business. Because it's probably the hard times that pushed you to try content creation. You know, a job loss or staying a long time without one. Rarely will you start this journey when you have plenty of money to splash around. 
But why wait till you are financially strained to start an online business?
I know we would all want to pay for the best tools in the market and blast our way to success, but that's not always possible. 
That's why my recommendations to you today are free or they'll cost you very little.
Please note, this post contains affiliate links. That means that I may earn a small commission if you sign up using my link. 
Let's dive in.
Before you start content creation
Content creation is a brilliant way to leverage your skills and knowledge to earn residual income, even while you sleep.
Content creation won't make you rich overnight — just like any other legitimate business. It takes a lot of dedication to achieve even minimal success.
You'll have to put in the work and have lots of patience. You may not even earn a dime in your first year. If you're lazy, don't even waste your time — find something else to do.
But if you are reading this, it shows you are committed to making it work, and I'm excited to help you start.
If you sign up using my link and get stuck somewhere, WhatsApp me.
The first step in your content creation journey is to register your domain name. And the best service provider for that is:
Namecheap
What do you want to call your website? For example, I called mine Jibubora. So I registered it as jibubora.com. That's my domain name. The .com is a top-level domain. Other examples include .net, .biz, .co, .ai, etc. 
I'd advise you to go with .com because of its worldwide appeal.
Spoilers! That name you are thinking of could already be taken! People have been registering domain names since 1985. What makes you think someone else hasn't thought of the name you're thinking of?
And if they registered before you, even a second earlier, there is nothing you can do. You'll have to choose another one. So be prepared for headaches in this first crucial part. It's crazy, as you'll soon find out.
The best part is you can always check if the name you have in mind is taken, or if it's open for you to register. 
Namecheap even tells you when it was registered, if it's already registered.
If it's available, go right ahead and register it before someone else does.
Cloudways
After registering your website name, the next step is to host your website. A website host is the place where the contents of your website are stored. Think of the text you write, images you upload, videos… all will be stored here.
So what you do is simply create a Cloudways account.
One of the biggest advantages of Cloudways is that you'll be given your own server, compared to most other hosting companies where you share a server with other website owners.
You'll also get 2 months of hosting FREE if you use my link to sign up.
Before you sign up
You might need help with website hosting setup, especially if you're better at being creative than technical.
If you feel you need a helping hand, WhatsApp me for guidance before you sign up.
A website hosted on Cloudways has almost zero downtime, and their customer service is fast and helpful in case you need some help with something you don't understand.
The cheapest plan which runs on a DigitalOcean server will cost you $11 a month.
For the quality services you'll get with Cloudways, $11 a month is the best deal you'll ever get. 
Again, put in the work to ensure your website generates a revenue of more than $11 a month so that it technically pays its own bills. I'll show you ways to monetize your site later on.
Chatra
Questions. Feedback. Suggestions. You can't ignore these if you are to build a successful online business.
As a content creator, you always wonder if your content is having the impact you intended. And you may never know until your target audience tells you.
It's usually very fulfilling when someone contacts you to tell you that your content helped them solve a problem they had.
You might think, "But they can use the email or fill out the form on my contact page!" Guess what? Present-day users find that to be too much work. They want an answer, and they want it now.
That's where a live chat comes in handy. We've seen them floating at the bottom right corner of the screen saying "Chat" or "Ask me anything. I'm online." That's what users prefer these days.
Expect more interactions from your readers this way. This will help you improve your content and motivate you to continue doing whatever you are doing.
After researching for a long time on hundreds of live chat options available, I settled on Chatra.
Before you sign up
The first benefit is that it's free for one website. That's important, because most live chat softwares charge per month, and you may not have money to pay for it.
Chatra offers you a week in the premium plan where you can use all the features. After that, they downgrade you to the free plan if you don't pay.
There are limited features in the free plan. For example, you won't see media attachments that users send you via the chat. You can ask them to send via other means, but then the purpose of the live chat is defeated.
Another thing to note is the delay in new chat alerts. Users expect you to respond immediately. But what if you don't get the alert immediately? I found out that when someone messages you when you are logged into your account, whether on a desktop or via a mobile app, the message deliverability is instant. 
Of course, you can't be in front of your desktop all day, and that's why the mobile app is convenient while on the go. But I also found out notifications on the phone didn't come on time, even when my data connection was on.
You would expect the notifications to push through like the ones for WhatsApp or Telegram, but that doesn't happen all the time with Chatra.
You can set up an automated response that will prompt users to leave a message so that you'll get back later, but some end up getting frustrated at the long wait time and leave, probably never to come back.
Before you delete
How to solve Chatra app delayed notifications
This is how to solve Chatra app delayed notifications because this is the main reason that would make you want to delete the app.
Normally, Android will close applications running in the background to save power— until you open them again. 
Solution: Try to make some settings modifications for the mobile app.
Mobile devices are different so look for the equivalent of the following settings. The device below is an Infinix Note 4.
Press the bottom left part of the phone to activate recently opened applications. Tap the padlock to lock Chatra in the activity tab. Make sure it's locked. 
Go to Settings > Data Usage > Data Saver >Unrestricted Data Access and check Chatra On. This allows the app to use unrestricted data when Data Saver is on.
• Make sure your internet connection is stable. Your network should either be 4G or 5G.
• Go to Settings > Battery > Battery Optimizations and set Chatra to Not Optimized, so that Android doesn't close it to save power.
Speaking of Android, someone told me that iOS doesn't close applications automatically to save power as Android does, but since I do not own an iPhone, I wasn't able to test that out.
And, from my research, it seems the delay in notifications also happens in other live chat software in the market, not just Chatra.
Mailerlite
Mailerlite offers superb services when you want to communicate with your email subscribers.
Confession: I had not realized the importance of collecting emails from website visitors until recently. Probably, you too don't see the need yet.
But I'll tell you— the people in your email list are the only true audience you have. Facebook, Instagram, X, and TikTok followers are great, but you don't own the companies, so you can't control them. They can even close your account, no matter the number of followers you have, and you'll do nothing.
What's worse? These days, when you post something on your social media page, that post will not be shown to all of your followers. It's shown to just a fraction of them.
So for these companies, it's always about them, not you. It's about their profits, not yours. And what makes you think Facebook, X, or Instagram will still be popular 10 years from now? 
But you know what, a person will retain their email address, probably for a lifetime. For instance, I bet you've had an email address for over 10 years, and you'll continue to use it in the future.
So with the email addresses of your readers, you have direct contact with them for life.
I'll repeat this: Your email list is the only true audience you have.
Before you sign up
Mailerlite is free for the first 1,000 subscribers, where you can send up to 12,000 emails every month, for free. That's perfect because you can learn how to send emails to your subscribers without the worry of paying anything.
You'll need to confirm that you own your website, and domain email (yourname@yourdomain.com) will be one requirement after you sign up. For example, lenny@jibubora.com and not, say, lenny781@gmail.com.
In case your email list grows beyond 1,000, you'll start paying. But before your list grows to that level, you'll probably be earning from your online business and can comfortably pay for this.
Before you delete
Unless you feel that Mailerlite is expensive and you've found a cheaper option (or one that accommodates more people in the free plan), or you feel they lack certain features for your type of business, I don't think there would be a reason to delete it. As a beginner, they have all that you need for your small business in the free plan.
After all, you can always shift to another email marketing provider anytime, without losing your email list. But for the start, I'd recommend you go with Mailerlite.
Canva
I'd be lying if I told you that you won't need to design something in your content creation journey. You'll need to design photos, infographics, and videos for social media, blog posts, presentations… the list is endless.
I usually edit the images that I take on the field to show directions in my rental house guides.
As a beginner, you may not have the finances to hire a designer. You may also not have the money to pay for expensive design software.
That's where Canva comes in. It's free, of course, with a paid plan that unlocks more options. But for the time I've used it, I've found the free version sufficient for the needs of a beginner.
It's easy to sign up. It takes a few seconds and you can start your first design immediately. Simple to use, and you'll get the hang of it within a few days. You can unlock the full power of Canva by signing up for Canva Pro.
Google AdSense
Now the fun part. After all the effort in creating content, you want to earn from it. You've invested your time and resources and you want a return on this investment. 
Truth be told, as a beginner, there aren't many options to monetize your content. Because you don't have many people visiting your website and you have little influence.
Monetization options like writing sponsored content, selling ad space on your website, writing paid reviews, affiliate marketing, becoming a brand ambassador, and public speaking all require some growth that you don't have at the moment.
Google Adsense changes the whole game.
Almost every beginner will apply for Google Adsense in their content creation journey. Because it's simple, doesn't have many requirements, and you can get approved within a week.
Before you sign up
I found so much conflicting information while researching AdSense on the web — it's crazy! Mostly, it's about the number of posts you need to have on your website before applying. Most say 20 or 30 blog posts.
I got approved with 5 blog posts.
Google doesn't mention the number of blog posts you need to have but emphasizes the content must be unique, not copied from another site. How will they know, you may ask? Well, they'll know. This is GOOGLE, bro.
How to get quick approval of Google AdSense
• Have an about page, a contact page, a privacy policy, terms and conditions, and earnings disclosure.
• Ensure your site works well on mobile devices.
• Navigation of the site should be easy for the user, and it should work. You may include a phone number on your contact page.
• Set up Google Search Console for your site and add a sitemap.
• Verify your identity on the Google Search Console.
That's all I did, and got approved.
Can Google AdSense approve your application on a weekend? Yes, mine was approved on a Saturday.
Before you delete
I bet your site has really grown for you to consider deleting AdSense. If you have tried other methods of monetizing and they work great, and you feel you don't want adverts by Google on your site anymore, maybe it's time to remove them.
Even so, I wouldn't delete the account if I were you. Things happen, and AdSense would be a safe fallback plan if things don't work well in your new monetization plan.
Maybe you want an alternative to Google AdSense? Then consider:
Ezoic
Ezoic will help monetize your site by placing advertisements. Not only that, Ezoic will test and determine the best places to place ads on your website, plus help you improve page loading times so you make the most income from those advertisements. 
Get this: An ad that doesn't load is bad for the advertiser (missed opportunity), you (no income), and the user experience (who likes blank spaces while browsing?).
What's more, you can use both Ezoic and AdSense together on one site. This is possible through a process called mediation. This is where advertisers actively bid to have their adverts on your site, and so you always make more money out of the ad spaces. Cool!
It's hard to explain everything about Ezoic at a go, and definitely not in this short review. The best way is to sign up and learn on the go. That's what I did. Once you're in, Ezoic will guide you on best practices to increase your income.
Before you sign up
How many page views does your website receive per month? Less than 10,000 or over 10,000? You'll join through one of those categories. At the time I was signing up, I was getting around 2,000 page views in a month, so I clicked on Less Than 10,000 and got accepted into the Access Now Program.
If you are wondering, the Access Now Program is for websites receiving less than 10,000 views in a month. Before then, Ezoic only allowed websites with traffic of over 10,000 visitors per month. It's easier now more than ever to monetize your small website!
Well, I'll be honest. There is a sharp learning curve when you integrate your website with Ezoic. It's not one magic button. But the good thing is it's fun seeing your income grow from the optimizations you make. I set up my site with no problems. Besides, you'll be assigned an onboarding support person to help you in case you get stuck. 
Before you delete
You wouldn't want to delete Ezoic! I mean, why would you? Ezoic has helped millions of website owners increase their income since 2010. All those people can't be wrong.
Again, Ezoic is very clear–set up everything and give it around 3 months to optimize your site and increase your revenue. So be patient. Follow their guidelines on best practices, keep adding content and for sure you'll see an increase in revenue and happier visitors.